1. How To Use The Admin Panel
Inviting your team to the Admin Panel through emails
In this article you will learn how you can invite and add admins to your events' organization at Brella's Admin Panel.
How to:
Go to manager.brella.io
Click on your organization
Admins tab on the left side menu
Click on 'Add admin' button on the top right corner
Enter the email credentials as well as the type of admin rights (you can learn the difference here)
Save
You are all set now! Your team member will receive an invitation email that will lead them to the Brella's admin panel. The invitation email will look similar to this: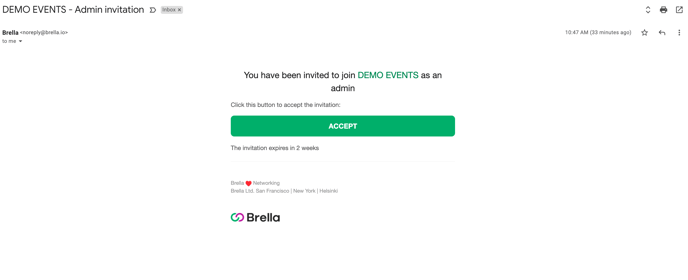 Next Steps:
Once you will add your team member, let them check their inbox for the invite
By clicking the 'Accept' link in the email they can create an account and have access to admin panel
All set! You are good to go with the event setup!
---
Last updated on May 2022.
Written by Aynur Atayeva.

If you didn't find an answer to your questions, please contact the Support Team here.

👇