To invite a sponsor to build their booth, first create a company profile on your event, then give sponsor admin rights to your stakeholder, and then they can make their booth from scratch.
Content
1. Event Organizer Creates Company Profiles on the Sponsor Tab of the Admin Panel
The first step to invite your sponsors to build their booths is to add all company's basic profiles to your event. To do that, go to manager.brella.io, and navigate to the Sponsors tab.
Create Categories. These are the type of sponsorships that you will have at your event. Then create a sponsor profile by clicking on Create New and adding the basics such as Company name and select Category, also specify whether this sponsor's booth has a chat and can access the booth traffic.
Find articles below on how to create every element step by step before inviting sponsors to the sponsor admin panel:
2. Event Organizer Designates a Sponsor Admin via the Event Admin Panel
To add a sponsor to your event, go to the event admin panel (manager.brella.io).
Login to your account and navigate to Admins tab > Sponsor admins.
To add a new sponsor admin, click on Add admin and fill in the respective categories:

Email > add the representative email in charge of building the booth.
Role > select Sponsor Admin.
Events that the user can access > select the event you are working on.
Sponsors > select the profile name you create for the sponsor.



Once ready, click Add. The company representative will receive an email with steps to log in to the sponsor admin panel.

👀 Email example: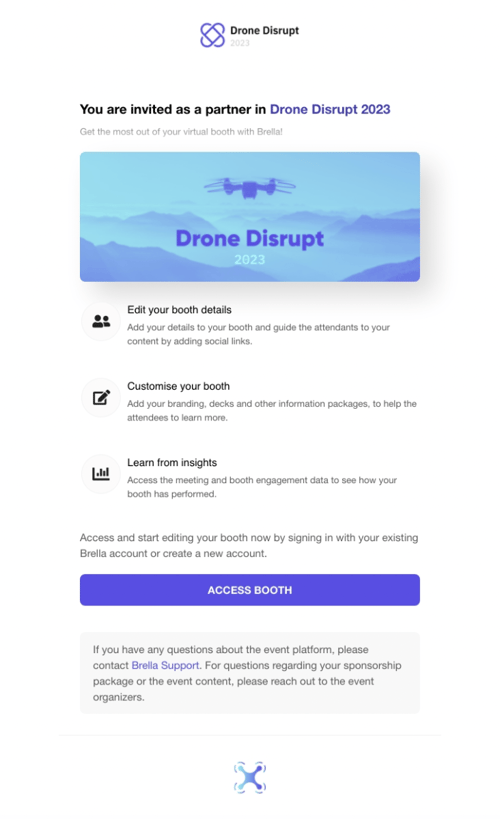 Once they have received the email, representatives will click on the Access Booth button to build their booth. To log in, they will follow the same join process when joining a regular event in Brella.
Please share the resolution steps in this article in advance to ensure a smooth experience in case of login issues.
Sponsor admins can view booth analytics and edit booth information, carousel materials, and sidebar integrations depending on the sponsorship package.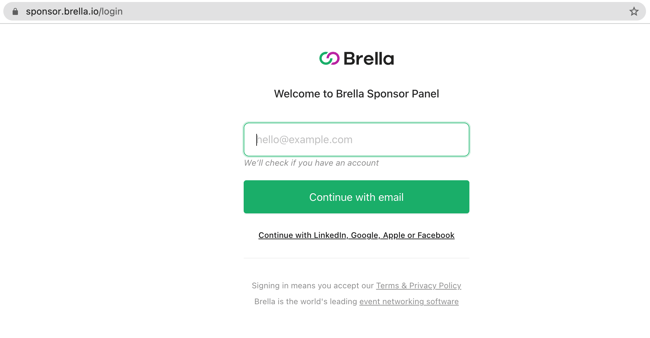 4. Removing a Sponsor Admin From the Event
Go to the admin panel (manager.brella.io).
Navigate to Admins > Sponsor admins.
Search for the representative name and click on Remove. It should remove his access to the booth.

💡 Note: In some instances where the Sponsor Admins use an email different from the one they are invited with, the sponsor admin panel will display both emails. In standard cases, only one email to which the users are invited and used will be shown.
---
Last updated in December 2021.
Written by Stephanie Campano Valenzuela.

If you didn't find an answer to your questions, get in touch with the Support Team here.

👇