Learn how to create a breakout room, and gain some important information you need to know when creating the rooms.
To create a breakout room:


Enable Breakout rooms - Go to the admin panel, navigate the "Breakout rooms" tab, and click on Enable breakout rooms.
(Note! If this is not your first breakout room, you can start from the second step.)


Create your breakout room in Brella. Select Create New Breakout room and start filling in all the required information. Each room has this data set to fill:



Room name
Date - The dates of a breakout room are only available within your event's duration assigned in event details.
Time
You can choose either a specific time when the room will be open or choose to have the room open all day.
❗Once a room reaches its end time, it will close immediately without any warning. If you're unsure whether the sessions will last longer than the time specified, please extend the duration and use the timer to track the timing of your sessions.
Cover image (optional)
The recommended aspect ratio of the picture is 16:9.
Description (optional)
The description can be a short introduction to what will happen in the room.

Press Create room to save the room.

👉 Organization of the breakout rooms:

The order of appearance of the breakout rooms in your event is determined by the order you create them in. At the moment the order cannot be updated manually. The latest created room will appear first in the listing. Please see the reference picture below: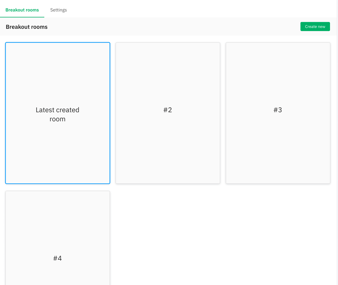 Video tutorial on how to create a breakout room:
👉 Note - We recommend an optimal amount of 12 breakout rooms. You can create more if you need to, our technical limit is 24.
---
Last updated on April 2021.
Written by Stephanie Campano Valenzuela.

If you didn't find an answer to your questions, please contact the Support Team here.

👇