Learn how you record your live streams through Evmux.
To be covered:
Intro
Learning how to record your live streams through Evmux can be a valuable asset to your events in Brella, as it can allow you more flexibility with your content.
Recording your live streams can also allow you to embed recorded content, which you can read more about here. (planning to link an evmux article here)
How to Record Live Streams
You can navigate to the Evmux console directly through Brella. Here's how to do it from scratch:
Navigate to manager.brella.io
Go to the 'Streams' tab
Click on 'Create new'
Add the Stream title
For Stream Type, choose 'In-built Studio'
Click 'Save'
You will now see this Stream you created on the Streams tab list
Click on the Stream
Click on 'View backstage studio' and you will be re-directed to Evmux
Once at your studio, click on Go Live and toggle on the 'Record' button
You'll see a few indications that your live stream is recording, which you can view down below:


Once you end your broadcast or your stream has finished, the recording of your stream will be saved automatically, where you'll be able to find them under 'Sessions'. Read below!
Where to Find Live Stream Recordings
Once connected, you can access your Evmux console through manager.brella.io. On your Stream tab, select an Evmux stream you've recorded and click on 'Access Recordings'.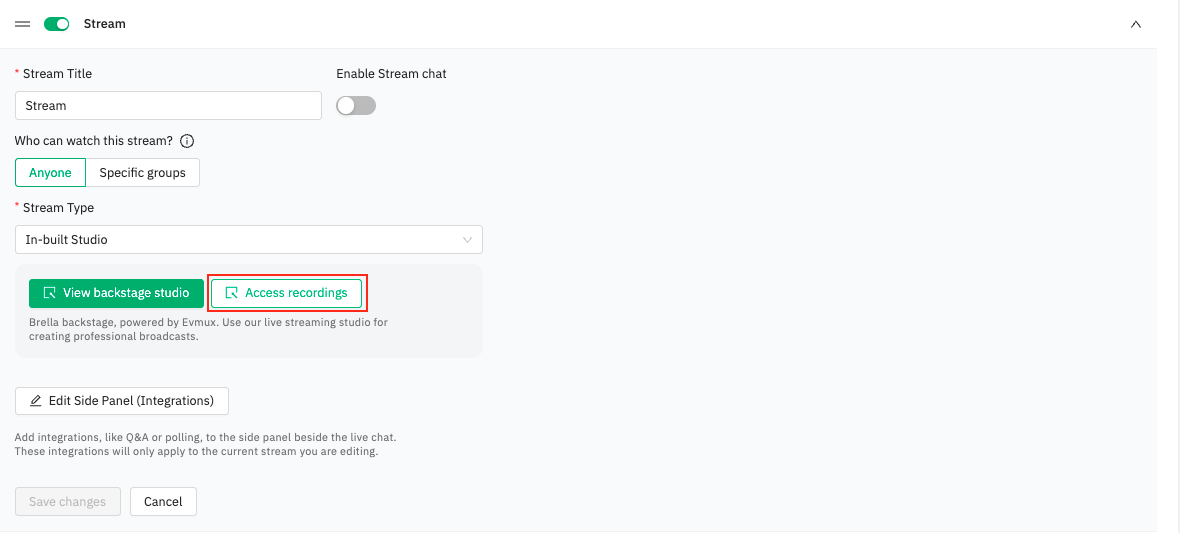 Then, select the recording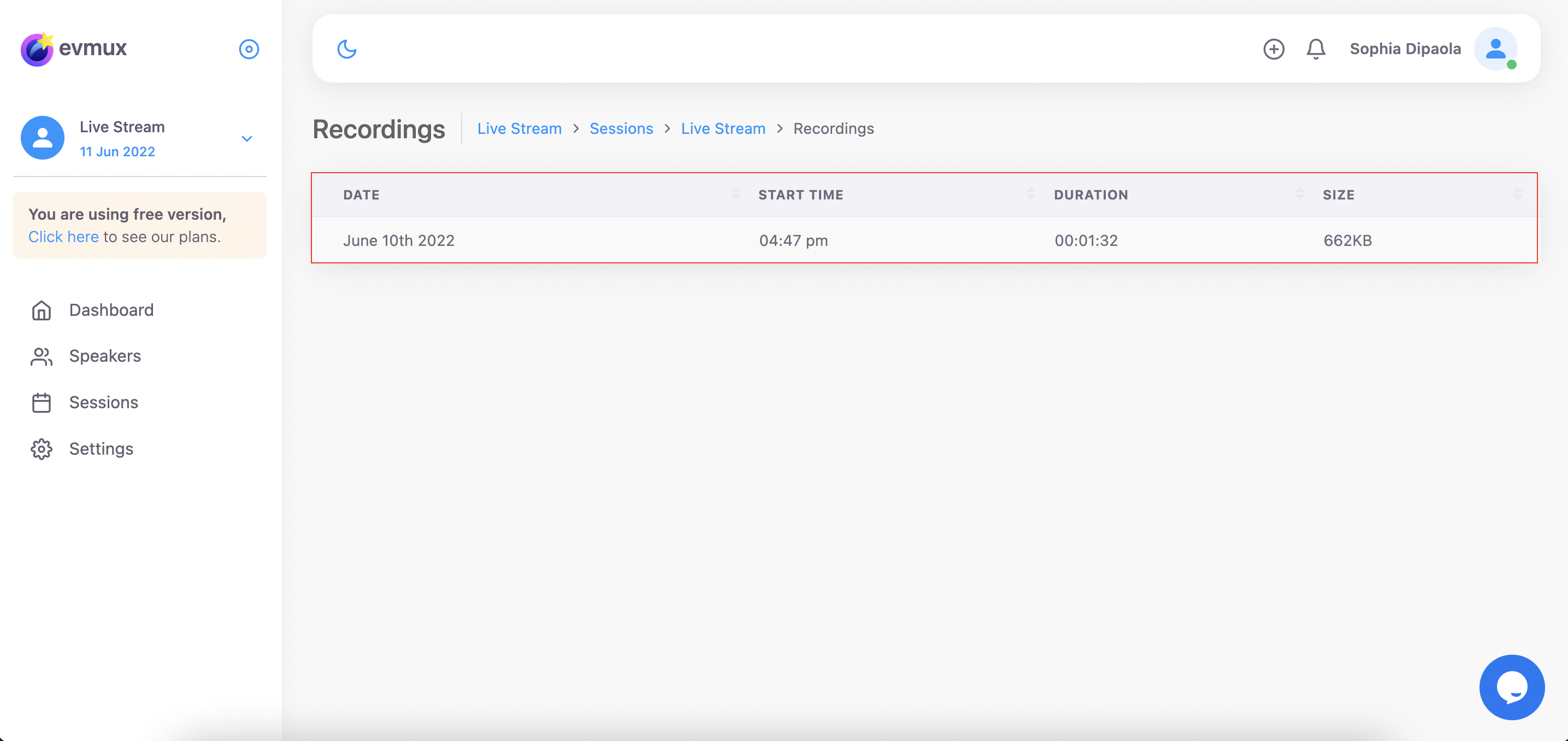 From there, you have the option to delete or download your recordings as an MP4, which you can upload to places like YouTube.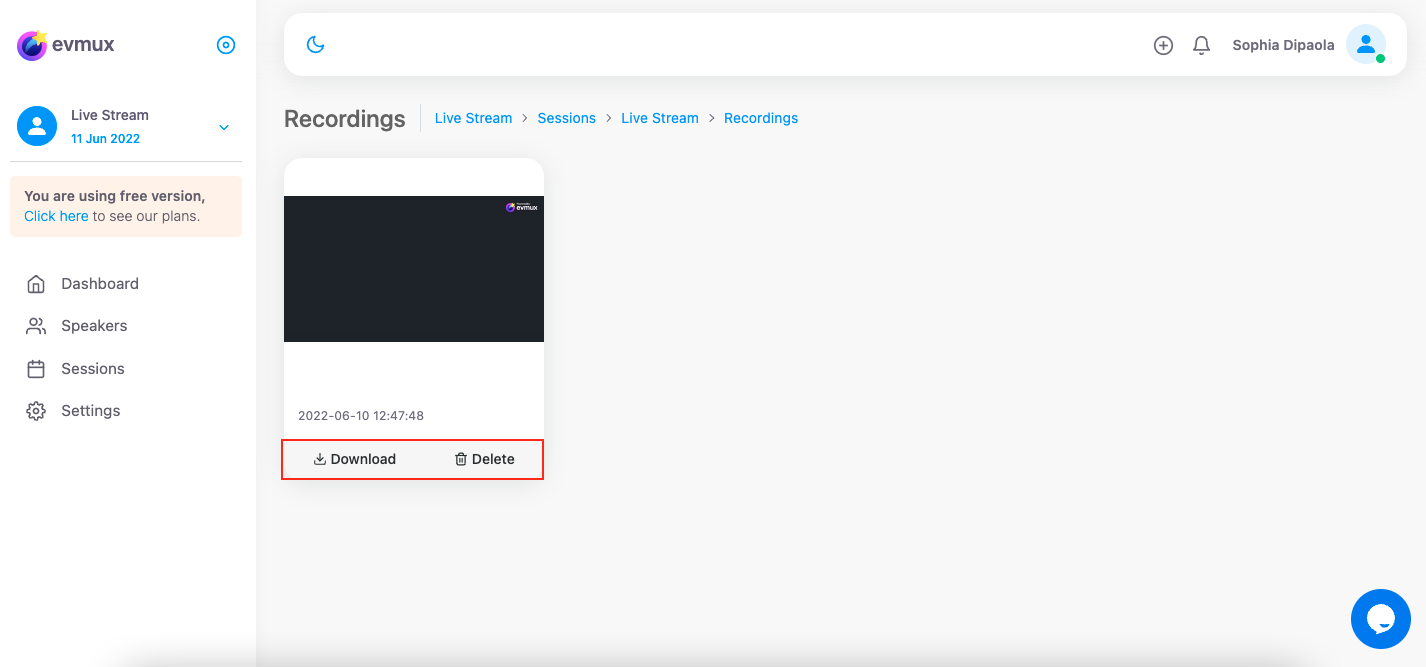 For some more videos and tutorials on how to make the most out of Evmux, check out this video from their YouTube Channel!
💡Note: Learn more about uploading recordings onto the Schedule and Home Page here. (planning to link an evmux article here)
---
Last updated in June 2022.

Written by Sophia DiPaola
If you didn't find an answer to your questions, please get in touch with the Support Team here.

👇