Learn how to update and keep your event details up to date on manager.brella.io
To be covered:
Intro:
At Brella, we understand how important it is to promote your event with the correct details. Sometimes we all need to change some details and Brella provides a easy to use interface to update these information as required. This article will walk you through the Details tab of the admin panel. This is developed for the event organizer to make changes to the event details as many times as required.
How to update the event details.
Log in to your Brella account through manager.brella.io
Navigate to My Event - click on your event
Click on 'Set up' and select 'Details'
The event details form is self-explanatory. Definitions and guidelines are mentioned below each detail to be updated within the form itself.
List of details which can be updated thorough this interface: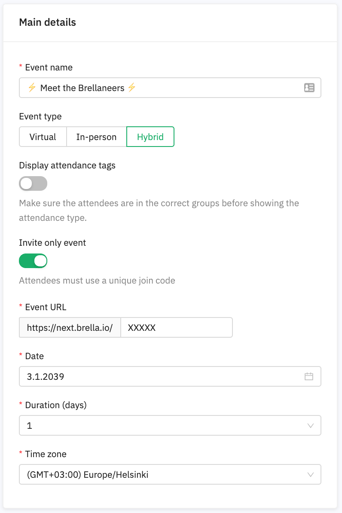 - Event Name
- Display attendance type (only if Hybrid is selected in Event Type as shown above)
- Toggle for Invite-only event
- Date
- Duration (The maximum time of an event in Brella is 14 days)
- Country
- Industry
- Networking
- Toggle for opting out of Networking
- Toggle to enable/disable meeting slots
- Toggle to enable/disable open chat
- Toggle to enable lead scanning
- Optional Details
- City
- Region
*Event settings will change based on the event type selected. Groups and Attendee Meetings are a couple of elements that will be affected.
**🚨 Warning: Once you have sent your join code to the attendees, it is best not to change it! If a change is unavoidable, an updated join code would need to be sent to them again, as the earlier one shared will no longer function.
*** Time zone: it is vital to choose your correct time zone for the event. It determines the event schedule, meetings scheduled by attendees, notifications, and emails. ☝️Choosing a city time zone such as Helsinki instead of (GMT +2:00) which will automatically adjust to Daylight Saving Time or Standard Time.
Point in case, if your time zone is (G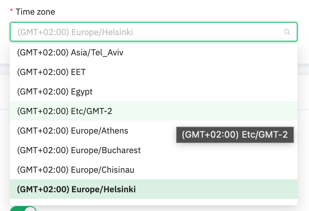 MT +2:00) --> Don't choose (GMT +2:00) Etc/GMT-2, choose ➡️ (GMT +2:00) Europe/Helsinki. ✔️
Congratulations! You have now successfully updated your event details.
---
Last updated - July 2022.
Written by Natasha Santiago

If you didn't find an answer to your questions, please contact the Support Team here.