📖 Event Details | Stage 1
Event Details: Change date and time format
Learn how to change the date and time format from your personal account settings
To be covered:
Intro
As an Event Organizer, you can change the time and date format from your personal account settings at https://next.brella.io. Likewise, all attendees can also change their date and time format and edit their profiles on their accounts. This will only set the date and time to their preferred format and not in any way change the actual date and timings of the event.
How to change the date and time format in my account? (Steps)
Sign in at next.brella.io.
Navigate to your profile picture in the top right.
Click 'Settings'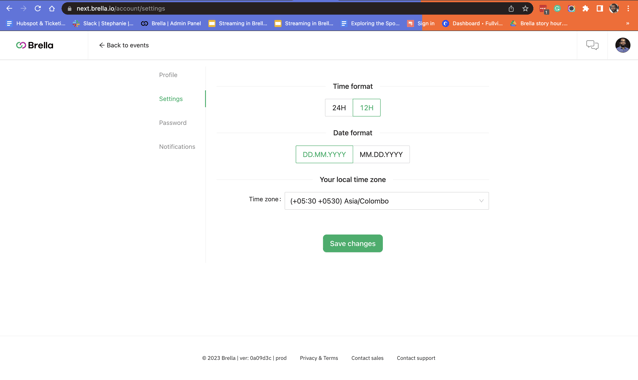 4. Now you can edit your date, time format, and time zone.
5. Click on the 'Save changes' button to save and update.
6. Your account is updated.
All dates and times will now be shown in the selected formats. Wish you a successful event ahead!
---
Last updated - July 2023.
Written by Rajinda Wijetunge.

If you didn't find an answer to your questions, please contact the Support Team here.