Sponsors and partners are among the most important players in your event; therefore, we show you how to create your first sponsor profile on Brella.
Go to the Sponsors tab in the Admin Panel (manager.brella.io). You'll be prompted to activate the sponsors' functionality.



After that, you can create the first sponsorship category. (Image on the left) You can name them and choose the size of the sponsor profile card that will be displayed. You can see how the different sizes vary and how the profile will be displayed on the right image on the platform (top-down large-medium-small).
💡A cover image is only available for Large sizes and the recommended dimensions are 1200px and 400px in PNG or JPEG format.




Start with Create new on the top right corner of the Sponsors page.
Add the information provided by the sponsor. Only the company name and category are mandatory fields. The rest is optional but highly recommended to complete.


Once you've added all the relevant information, upload the sponsor logo before you click Save.
👉Note: If you are experiencing issues with saving a new sponsor, check that your logo is within the correct image size, which can be max. 1000x650.

Great! You just created your first sponsor profile for your event!
All the sponsor profiles created will be displayed like this on the admin panel. On the right side of the dashboard, under Naming, you can rename the title of this Sponsor page of your event that will be displayed next.brella.io.
Categories are the sponsorship categories that have been created for this event. At the bottom, Sponsors enabled is a category that allows you to hide/unhide the sponsor page of your event. If you hide it, the content will remain, and no changes will be made to this tab in the Admin panel.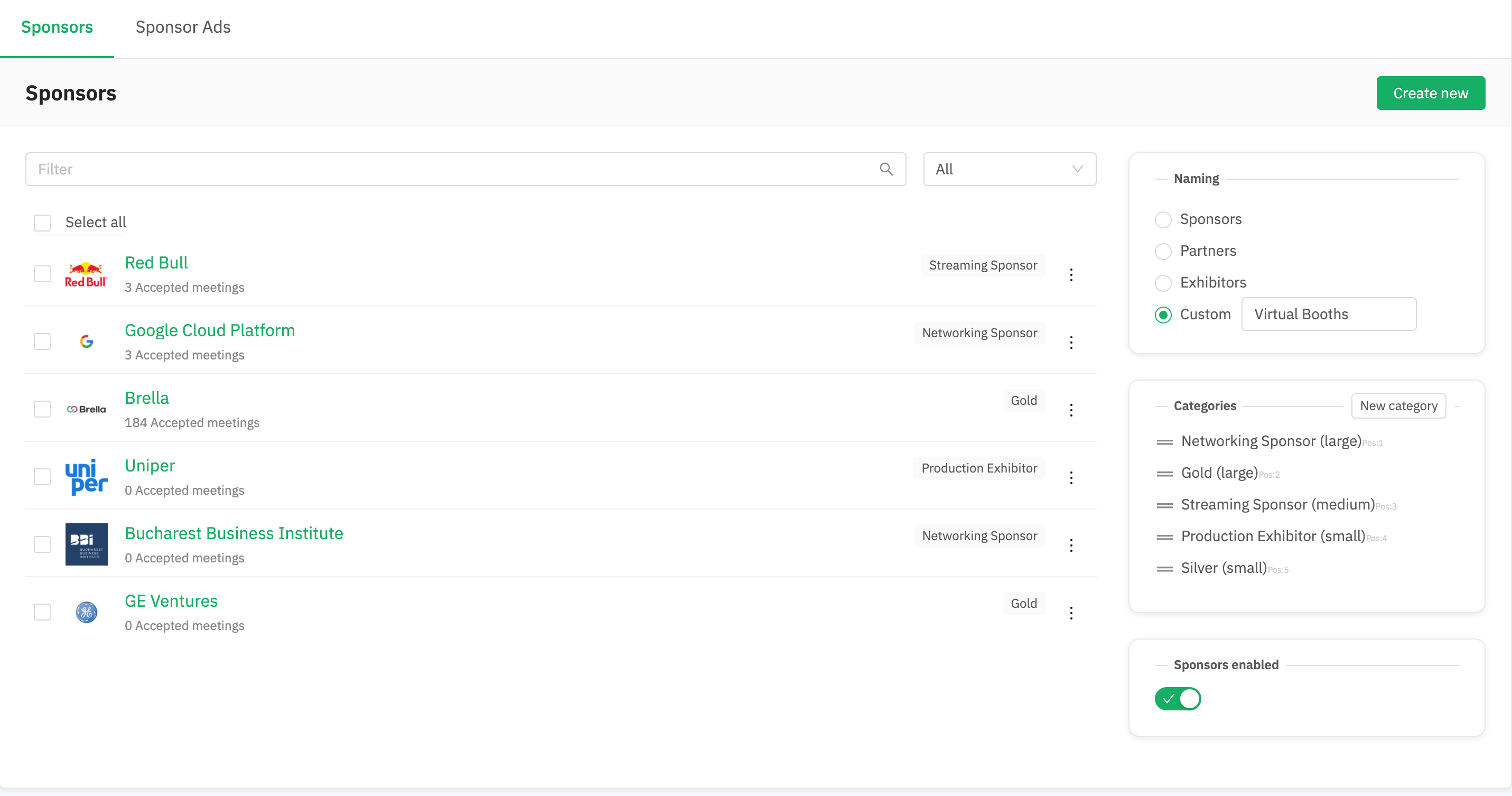 ---
Last updated on October 2021.
Written by Stephanie Campano Valenzuela.

If you didn't find an answer to your questions, please contact the Support Team here.

👇