You can include images on different sections of your event on Brella. Thus, get the right dimensions so your materials look top-notch.
Brella ONLY accepts png, jpg, jpeg, gif formats, with a size no bigger than 2MB.
In a nutshell:
Below you will find the image dimension and sizes in detail for all the various components:


Cover photo
For the banner placed on the Event Home page, the recommended size is 940 x 360.
Formats: png, jpg, or jpeg.
Home page Image and Video
You can upload a welcome image to your event home page. The dimensions are 1600 x 900.
If you rather have a welcome video for your event, you can embed a video by adding the embed URL. The video has to be stored in storage software such as Youtube. For examples, go here. There are no specific dimensions for the video.
Schedule
For images set in the sessions (content slots), the recommended size is 1000x650.
Formats: png, jpg, jpeg, or gif.
See how the images will look on the sessions here

.
Speakers
For Speakers' profiles, the headshot should be ideally 300x300
Formats: png, jpg, or jpeg.
Event info pages
The images added in the Event info pages showing on the event's home page recommended size is

1000x650.

Formats: png, jpg, jpeg, or gif.
👉 Adding embedded videos on the schedule description and event info is not allowed; instead, you can add hyperlinks.
Sponsors
The recommended size for the sponsors' logos is 1000x650.
Formats: png, jpg, jpeg, or gif.
⭐ Tip! The logo should occupy the full document size with as little white space as possible.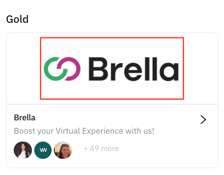 This is how different logo shapes and sizes look on the Sponsor's page.
Virtual booths
Carousel section: Images can be uploaded and added as a link. The recommended size is with a ratio: 16:9 in formats: png, jpg, jpeg, or gif. For images is recommended to have 737x600 px; however, note that the iframe will constantly adapt to your screen size and port.

If you add an image with an URL, the size could be bigger; the image will adapt accordingly, thanks to the iframe. Here you can watch how pictures and other materials look in the carousel section.
Side panel section: Images embedded in this section don't have a specific size or format since you can only embed materials stored in the cloud in this section.
---
Last updated on October 2021.
Written by Stephanie Campano Valenzuela.

If you didn't find an answer to your questions, please get in touch with the Support Team here.

👇