Having the prepared presenters for your event is essential to create attendee attraction and engagement. Therefore, as a Speaker, you also need to guide them along your event to undergo a smooth experience.
This guide has been created to help you understand the steps a Speaker goes through from the reception of the invitation to join Brella, the exposure and branding possibilities during and post-event. Of course, each event has its own journey, but we'd like to guide you in a more general context to help you understand where to put more attention when onboarding your speakers.
The speaker's journey had started when they confirmed their participation in your event. Then, you will share the specifics for the session's materials/requirements and the information needed for you to promote their personal brand:
an event speaker profile
session information & materials (Optional: description, materials, and links)
platform access
personal brand and session promotion on their own SoMe channels
networking opportunities
targeted extended sessions, etc.
Speakers are a relevant part of your event success, and to make their experience and purpose a success, information and guidance are the keys to keep the event under control.
Same as your sponsors, It's important to onboard your speakers.
Let's start! 🚀
Content
1. Getting the details to create an event Speaker profile
How you get your speakers' information is open, but you can also share our Speaker template for a much easier data collection and faster upload in Brella.
The template looks like the image below, and you can start filling in all the columns as follows:

2. Sharing the session details & supporting materials - *Optional
Same as with the speaker profile, the session that s/he is hosting needs a bio (details & supporting materials if possible). We suggest adding this to your schedule since it is also a way to attract your participants' curiosity and to increase the session's attendance.
Currently, additional materials on the side panel, third-party integrations or links in 'Stream URL' can be added only manually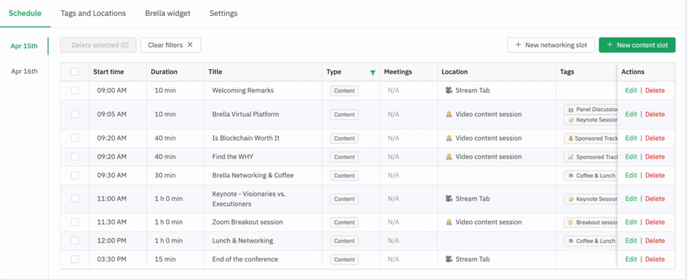 3. Receiving the invite email & signing up to Brella 📧
Speakers will get the email invitation with a join code & link to access Brella from the organizer. They should receive clear instructions on how to log in to Brella and both the join code and join link. For example:
Join URL: https://next.brella.io/join/CODE123
Join code: CODE123
👉 After receiving the email, the speakers should proceed, and 1) click on the join link and create an account OR 2) go to next.brella.io and create an account and then input the join code.
If the speaker has an existing account, they can proceed with their account by selecting the same sign-in method and email when created the first time.
If s/he don't have one yet, they can create a Brella account by following these steps. First, s/he can opt to join through the Brella Web App or Brella Mobile App. Both land on the same sign-in page.
👉 Remember to share any additional access links, for example, to backstage on your streaming provider, breakout rooms or any other webinar tool in use.
4. Creating own event profile
After creating the account, the speakers will land on the event's welcome page, followed by the Brella registration process.
When every stakeholder joins Brella, they go through 4 steps (Welcome, Availability, Interests(Matchmaking), and Profile) to ensure their event profile and networking possibilities are set up optimally.
🎯Take away
Include in the invite email the two steps when joining the event in Brella. First, the attendee will have to create an account, then create an event profile.
5. Landing on the event homepage
👉 After the registration is done, the speakers will land on the event homepage.
This page is the engagement portal for everyone and to access any area of the event. Learn how this page can benefit you, as the organizer and the speakers together.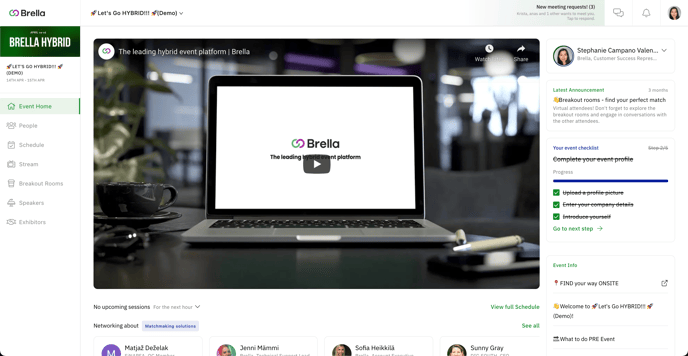 6. Exploring the People page 👥
When the speakers land on this page, they will have access to the participant's list.
If the speaker Opt-in for networking within the event, they will first see their top matches based on the interests and intents chosen during the registration process. Also, they can see the recently joined attendees (Newest) and can bookmark people interested in follow-ups or suggest a meeting post-event.
What's more, they can use the Filter to find people per interest and intend to explore the list of people they can meet with. Our matchmaking has four intent, so you can filter people by networking, trading, investing, and recruiting.
🎯 Take away
Ensure to encourage everyone at your event, including speakers, to opt-in networking from the registration. This will allow them to connect with others before the event begins. You can also inform it's possible to filter people according to the matchmaking categories, interests, and intents.
7. Setting up 1:1 meetings 🤝
👉 Web app
From the People's page, the speakers can suggest meetings to others whether they have common interests or not. From this page, they can connect with anyone who has open available meeting slots in their profile.
They can easily suggest a meeting by clicking on Suggest meeting on a profile card.
Participants can learn how the 1:1 meetings work by reading this guideline: Understanding the Brella Meetings.
🎯 Take away
Ensure to inform how to suggest meetings in 3 easy-peasy steps.
👉 Mobile app
From the People tab, speakers can check their most relevant connections and decide if they would like to have a meeting with someone from the matches list by clicking
Suggest meeting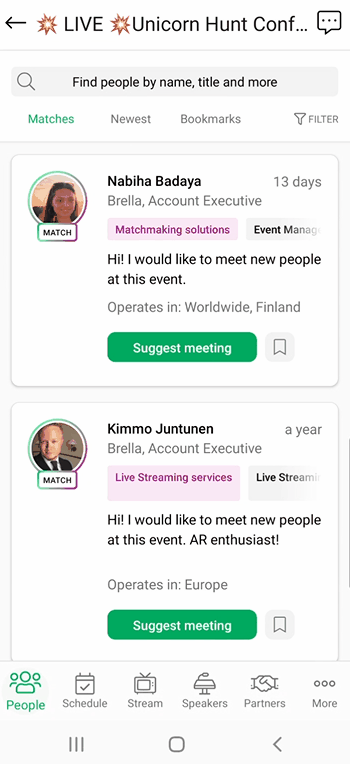 8. Promoting speaker's session in Brella
Promoting your most relevant content or keynote sessions should be part of your event's communication emails & announcements. This way, you can boost your engagement and make a buzz around your most expected session. Both parts (speaker & event organizer) get benefited from the extra attention and Fomo.

9. Promotion in external channels
Same as with your internal event's communication, it's also highly recommended to use your company's or event social media platforms to promote your speakers and sessions. This way, the speakers also can use their own channels to communicate about their participation in your event and benefit each other from it.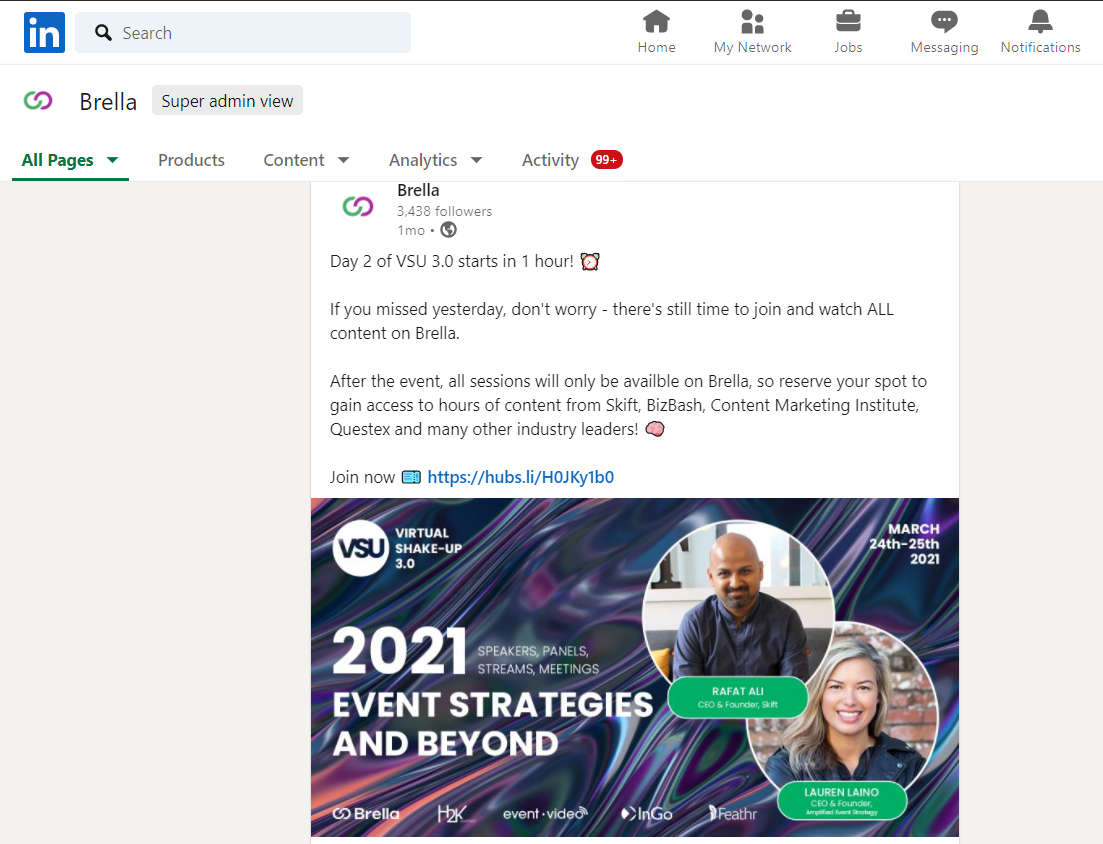 10. BONUS: Hosting a Breakout room 🌟
Creating post-session experiences such as speaker talks, Q&As, or more exclusive sessions for targeted groups at your event is a great idea to keep the engagement and interest. Our breakout room feature is perfect for hosting these more casual and reunions. If you would like to know how to make the best out of the breakout rooms and extend your agenda repertory, check this article.


---
Last updated in July 2021.
Written by Wendy Rendón

If you didn't find an answer to your questions, please contact the Support Team here.

👇