Event success is measured by the number of conversations it facilitated. Learn how well your event did in this regard.
If you're here, it might be that you want to learn what meeting engagement is or your event is over, and now you want to know how good your event did networking-wise.
Participant's platform adoption is a reflection of your communications plan; therefore, the more emails, messages, and time you dedicated to onboarding your associates, the higher the engagement rate should be.
If you showed your participants how to make the most of Brella, it's very likely they kept engaged and had a great customer experience.
Let's see how the meeting engagement gets calculated.
The meeting engagement is calculated by dividing...
Total engagement/Total Attendees with meetings = X
Total Engagement = Chat messages (all messages exchanged) + Meeting requests (all meeting statuses.)
Total Attendees with meetings = Attendees with meetings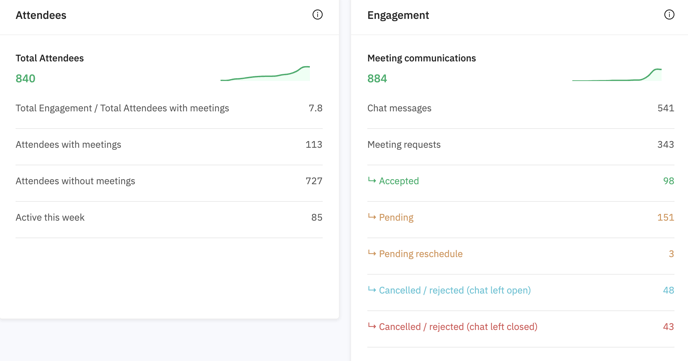 📋 Quick pointers:
Having a higher number of participants with meetings than participants without meetings tells that there was a great communications plan from your side, which encouraged attendees to join Brella and make meaningful connections. Congrats! 🚀
The pre-engagement rate should be higher than during the event rate. Why? Because that means your attendees planned their meetings before the event and did not struggle last minute to book those relevant meetings. During the event, participants should focus more on the content and engaging in the live chat.
If your event's average engagement is higher than 14, you should be proud of yourselves! 🙌
The ideal average meeting engagement is above 12.

Aim for over 12. Based on hundreds of events hosted in Brella, we found out that having an av. meeting engagement of 12 is great. 🏆
If your event's average engagement is lower than 14, don't be discouraged. This means there is room to improve in your Communications plan. If you follow the questions accordingly and don't know what went wrong, contact us.
You can see the meeting engagement in the Overview tab of the admin panel and find their definitions here.

---
Last updated on May 2021.
Written by Stephanie Campano Valenzuela.

If you didn't find an answer to your questions, please contact the Support Team here.

👇