Community Admin: Edit customization and details
Learn how to edit and customize Community details to make your Community your own.
To be covered:
Intro
Learning how to add customizations and details to your Community is a great way to make it your own and provide a great, unique experience to your members!
With these features, you can edit the name of your Community, the URL slug, and edit your logo and cover image.
Details
On the Details tab, you can change the name of the community. However, you cannot change the URL slug once it has been created.
Name: The name of your Community as it is displayed
URL slug: Used to create a URL directly to your Community (Organization slug cannot be changed.)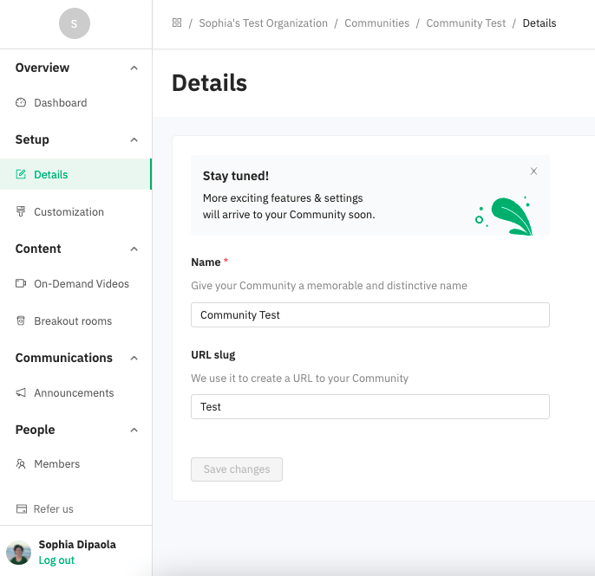 Customization
On the Customization tab, you can edit your community logo and cover image. You can also view the placement of both.
Community Logo: The main logo of your Community. Recommended: PNG or SVG
Cover Image: A banner that identifies your company upon entering the Community Recommended: 940 x 360, JPEG or PNG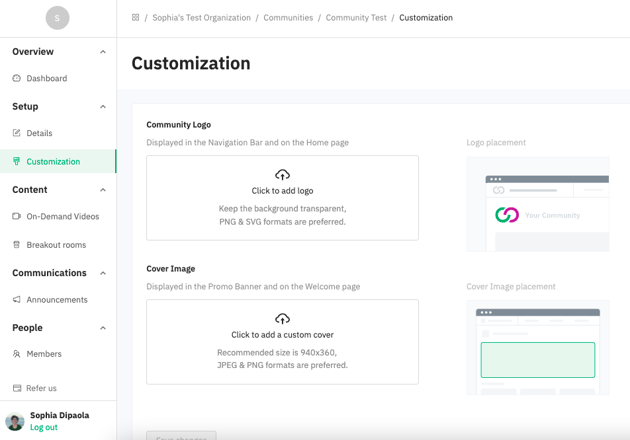 ❗Note: The black gradient and the text on top of it on your cover image cannot currently be edited or removed. However, the ability to do this is coming soon!
---
Last updated in July 2022.

Written by Sophia DiPaola
If you didn't find an answer to your questions, please get in touch with the Support Team here.

👇