Community Admin: Creating Webinars
Learn how to create Webinars for your Community for people to chat and connect.
To be covered:
Intro
Webinars are a feature integrated into Brella Communities that allows you to create closed or open virtual rooms for your events to gather participants.
Webinars tab
On the Webinars tab, you can create virtual spaces to connect and meet your community online. Each space has a limit of 200 people, and up to 24 people can have their cam on simultaneously.
You can also adjust your settings on the Settings tab, which allows you to enable or disable your Webinars, as well as create a custom page name.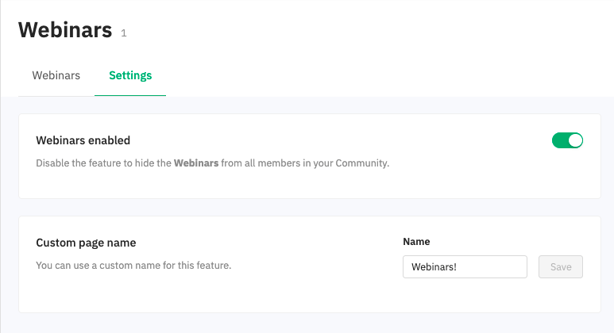 To learn more about how Webinars work, please visit this article. If you have any questions, please let us know.
❗Note: Breakout Rooms are now called Webinars in Communities. However, they still work the same way! Learn more about Communities here.
---
Last updated in July 2022.
Written by Stephanie Campano Valenzuela.

If you didn't find an answer to your questions, please contact the Support Team here.

👇