The participant registration in Communities consists of three steps, which all participants need to follow to join the Community.
To be covered:
Intro
When Members begin the registration and onboarding process in Brella, they go through a set of actions to ensure their profile is set up optimally to network as efficiently as possible.
Below, you'll find a detailed rundown of the three-step registration process all participants go through before joining a Community.
Welcome page
This is the first page that participants see when they start joining your Community in Brella. It will contain your event banner uploaded on the Details page and a brief introduction to the platform, followed by starting to set up your profile.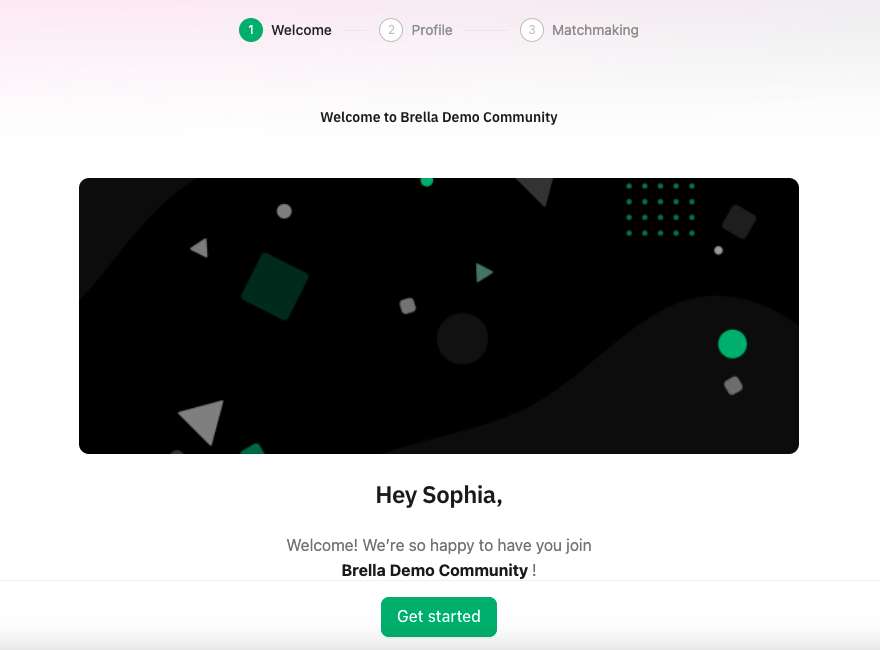 Profile
Upon clicking "Get Started," participants will be directed to complete their profile, where they can include a brief introduction and select the countries they operate in.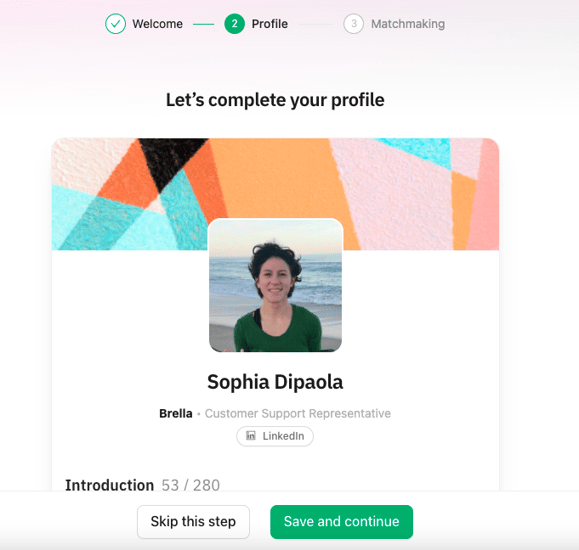 Should a participant click "Skip this step," they'll move on to the next step, Matchmaking. Should they also skip this part of the process, they'll receive a prompt that says the following: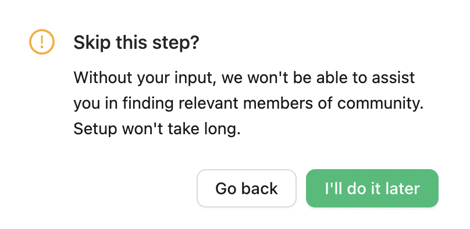 Should they select "I'll do this later," there will be some functionality limitations, including networking and viewing other Members. However, they can always opt back in and complete the process: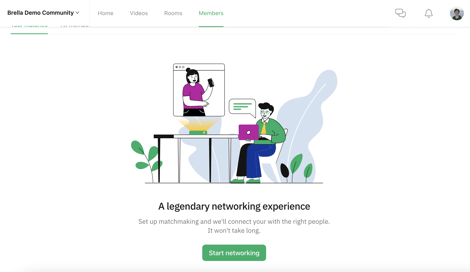 Matchmaking
Participants will then choose their categories and interests to connect with the right people in your Community. This step focuses on displaying all the matchmaking categories created to help participants find the right match and have meaningful connections.
To learn more about how this step functions, visit this page that explains everything about Brella matchmaking.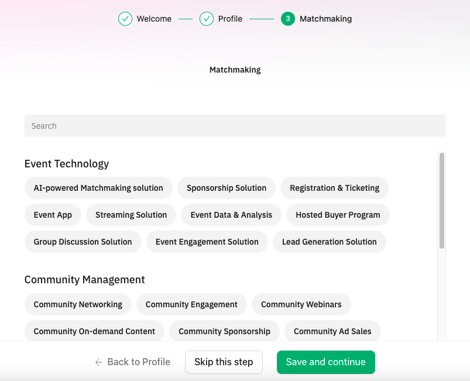 Done! Landing Page: Event Home
After participants finalize their profiles, they will land on the homepage.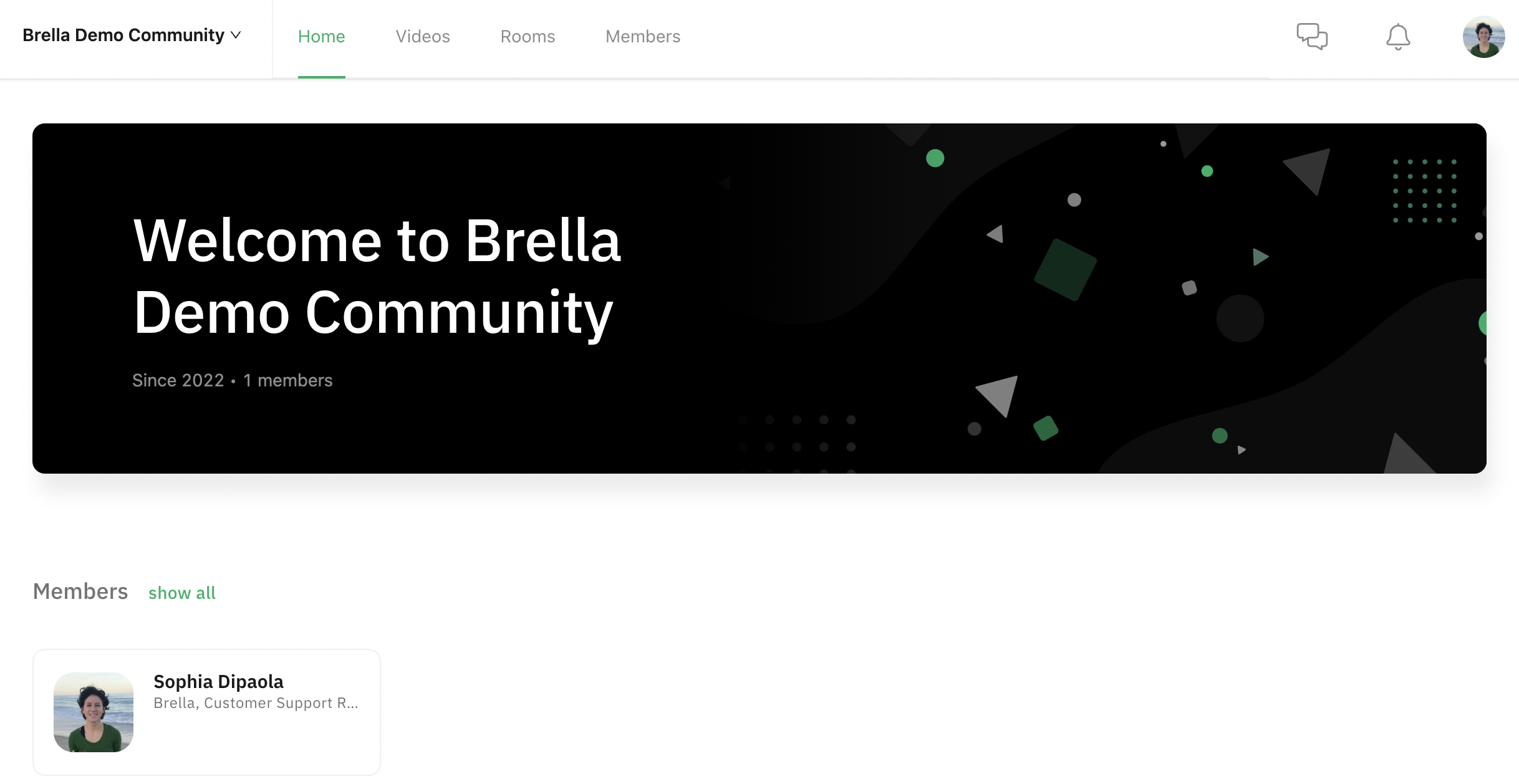 How Participants Register
There are two ways your participants can register in your Community:
Personalized Invite Codes


Personalized invite codes offer you complete control over who can join your community, ensuring that it stays exclusive.

Open Invite


Open invites allow you to create a general invite with an unlimited number of seats — allowing you to offer more inclusive access to your community. Currently, there is no way to toggle this on or off.

This means that if the Community Manager shares the join link (from the details tab) with attendees from ongoing or previous events, anyone can join without an invite.

Brella will check whether the prospective community member has joined an event within the same organization in Brella. If not, community managers will need to create an invite for them.
👉 Note: The intro text on the welcome page cannot be customized yet. This is coming soon!
---
Last updated in August 2023
Written by Yusra Mohideen

Please contact the Support Team here if you didn't find an answer to your questions.

👇