At Brella, a meeting can be accepted, rescheduled, or canceled. Some people may also forget to react to meeting requests when inviting people for meetings, so ensure to know what you can do in each situation.
Content
---
If Your Meeting Request Is ACCEPTED
Your meeting has been accepted, great! 🙌 A Brella meeting room will open in the chat with that person. Both participants have to click on the video icon to start the call.
❗There is no warning that the other end is calling, but you will receive a notification 5 minutes before the meeting.
👉If you're attending a virtual event, you'll find the meeting time and location in the chat and from the event schedule. To start the meeting, you need to click on the video icon! See how virtual meetings work here.
👉If you are attending an in-person/hybrid event, you'll most likely see a table number located in the Networking Area in the venue. However, if all the tables are full, please set up your meeting location with your partner in the venue or use the Brella virtual room located in your chat.
👉Some events won't have dedicated meeting times or tables, but don't worry. Talk with your partner to choose a time and place to meet yourselves.
👉 You'll receive notifications 5 mins before an accepted meeting is about to happen. Remember to enable the notifications! Check here for how to do it.
If Your Meeting Request Is RESCHEDULED
Don't worry! Your meeting has been rescheduled - that means your match still wants to meet you at a different time.

👉 You can chat with the person now. You two can arrange a better meeting time, and you can reschedule a meeting as many times as needed.
❗Please note: If you reschedule right after sending a meeting request, the chat will not be open, as your match still needs to accept or decline the request.
If Your Meeting Request Is CANCELED WITH CHAT OPEN/CHAT CLOSED
If your meeting request gets canceled, it's okay; more room for relevant meetings!
👉Usually, meetings get canceled because your match was too busy to meet you. However, check if the chat is open, as they may still want to chat and connect in the future. The chat window will also keep open after the event.
Unfortunately, sometimes meeting requests aren't relevant, and they get declined. Think of it as a new opportunity to use this time slot to suggest a meeting with the right person!
👉 If you are the one who is declining the meeting, you will have to choose either to "Keep the chat open" or "Close the chat." We'd recommend keeping the chat open, as you may still be interested in contacting that person later.
If Your Meeting Request Is PENDING
When a meeting status is pending, the meeting is not confirmed yet, either by you or the other party. There is also no meeting location set yet.
👉Please do not leave any meeting requests you receive as pending. Accepting or declining allows others to plan their agenda or book a new meeting.
❗Leaving many pending meeting requests may lower your Brella matchmaking score.
💡 Tip! You'll be notified of all meeting status changes by email and push notifications.
📩 Here are some examples of emails you'll receive regarding meetings. This one confirms your meeting has been accepted: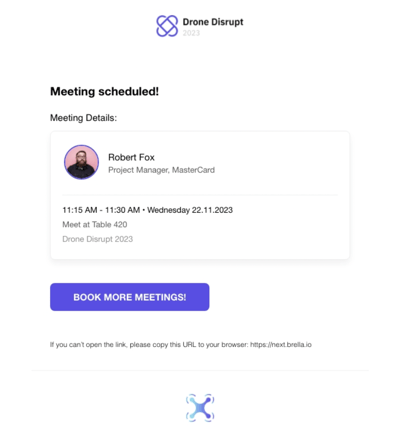 📩 If your meeting has been accepted, but there are no tables: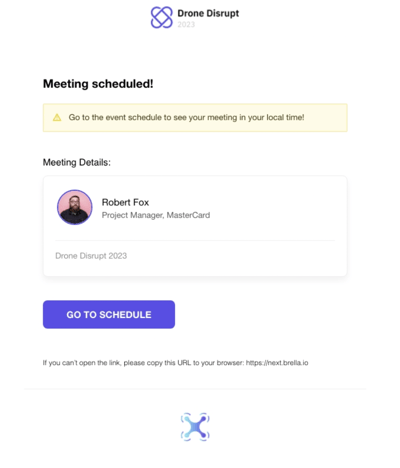 📩 If your meeting has been accepted, but there wasn't a time set: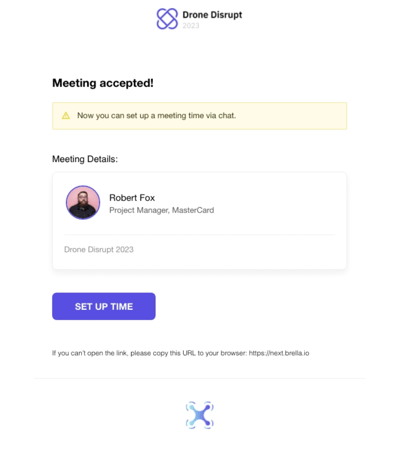 📩 Additionally, here is an email you'll receive that informs you your meeting has been canceled: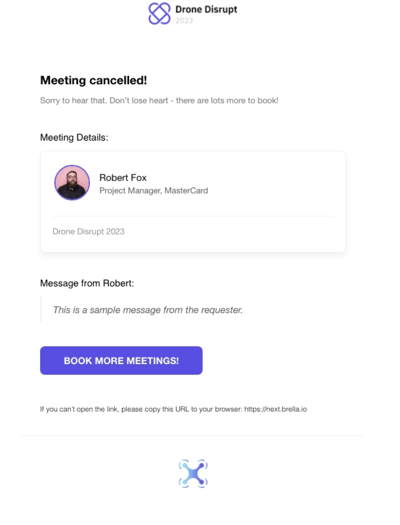 👉 Here are some other examples of meeting-related emails you'll receive, including:
📩 Meeting Chat Request: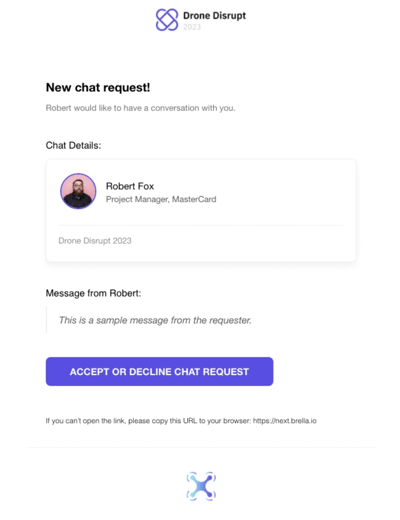 📩 Event Organizer Team arranging a meeting for you: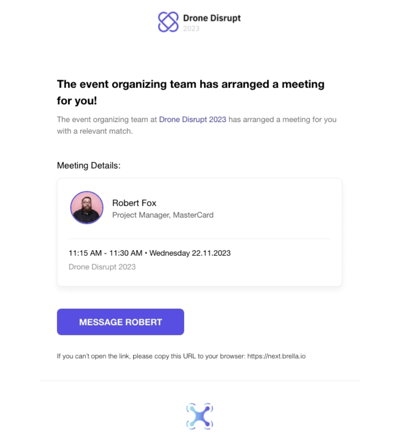 📩 Meeting Declined: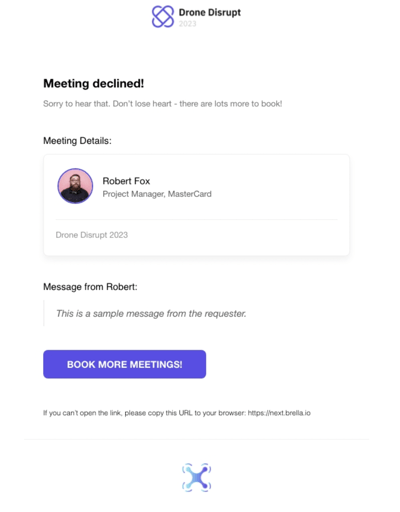 📩 Meeting Requested: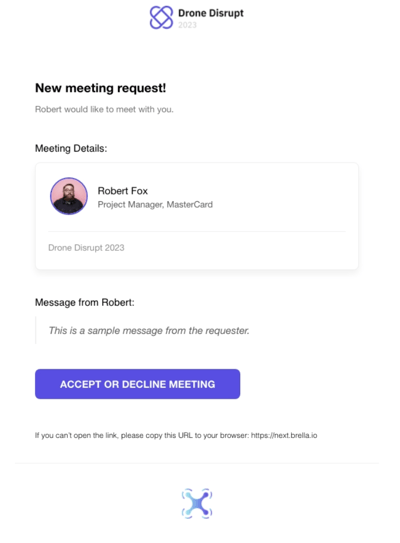 📩 Meeting Rescheduled: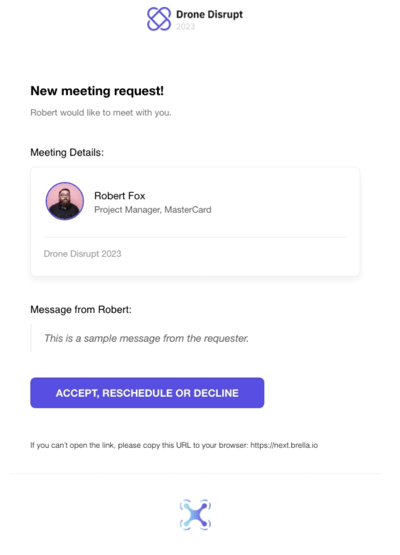 📩 Virtual Meeting Ready: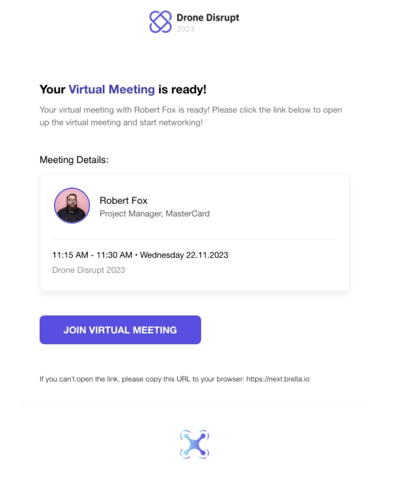 ---
Last updated in March 2022.
Written by Stephanie Campano Valenzuela.

If you didn't find an answer to your questions, please get in touch with the Support Team here.

👇