Use the sidebar to embed links in the sponsor booth.
In order to add presentations, lead captures, or engagement tools to your virtual booth, you need to add an embeddable link in Brella's Admin Panel.
If you are seeking to embed a presentation, please view this article on how to generate an embeddable link through Google Drive.
Once you have your embeddable link available:
Go to the Admin panel and login with your credentials
Find your event and open the Sponsors tab
Open the sponsor by clicking sponsor name and select "Edit Virtual Booth"
Add the embeddable link (learn how to get it here) under "Sidebar integrations".


All done! The sidebar integration will look like this to your attendees: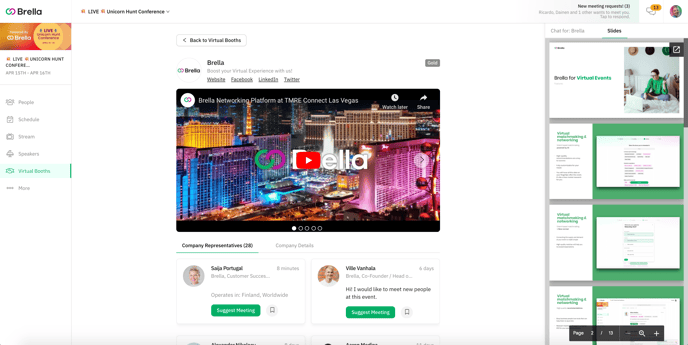 ⚡ Note: Such links/hyperlinks must follow the below structure:
- No long links i.e.,

If you would like to shorten links, you can use free tools such as
Bitly.com
💡 Tip: If you need to embed a document or page, you can use iframely to check if it's possible to extract the code's necessary embedded link.
---
Last updated on February 2021.
Written by Stephanie Campano Valenzuela.

If you didn't find an answer to your questions, please contact the Support Team here.

👇