The following steps will get you set up and/or will help you resolve any inconveniences you might find along the way with your meetings.
1. First of all, like any other video call, Brella virtual meetings require a good and stable internet connection.
2. Next, ensure you have the right browser support for Brella virtual meetings.
Brella works best in Chrome, you will be able to use video, audio, and screen sharing.
In Safari, you will be able to use audio-only and watch screen sharing from others.
Internet Explorer (IE), Firefox, and Edge don't support Brella video calls.
Note: Brella virtual meetings are only available on the Brella web version (next.brella.io).
3. Enable the basic requirements for virtual meetings such as allowing video and audio on your browser settings, see how to do it here.
Tips to test your video and sound functionalities
1. Open an accepted meeting and start the video
Note: When clicking on the video call icon, you will not call your match, you simply open the meeting room.
2. On the video call screen, click the dots on the lower right of your screen:

3. A settings window will appear, and you'll be able to test your video and sound. Make a sound and a blue bar will appear indicating the volume frequency as shown below: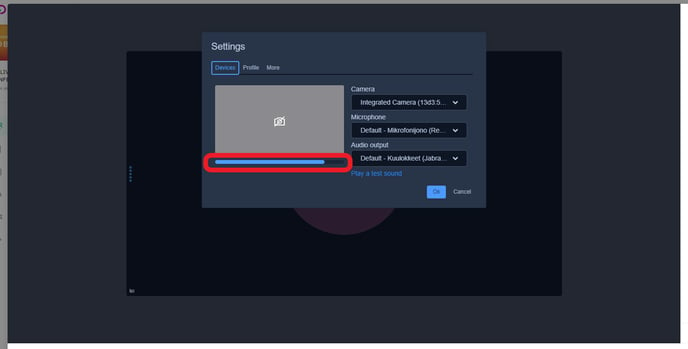 If you have any difficulties with your virtual meeting room, please revise the steps above.
4. After that, troubleshoot the basic requirements by re-enabling the video and audio on your browser settings.
How to clear browser cache? When on the browser, follow these steps:
Click on Settings > Privacy and Security
Clear browsing data > Basic or Advanced
Choose the cached data
Refresh your browser and login once again to your Brella account.
Important! If after the aforementioned guidelines, your virtual meeting room (video call) or chats are not working it's very likely that it's because your company's firewall (security software) is blocking these features in Brella. In this case, please use a personal computer or iPad/tablet.